About Practical Embroidery
Hi!
My name is Tatjana.
I'm a creator and a teacher at Practical Embroidery online school. By teaching hand embroidery techniques and application, I empower women to take care of their clothes, homes, and emotional health with the help of simple stitches. I offer a range of online courses, workshops, downloadable patterns, video tutorials, and embroidery kits, so everyone can learn at their pace from the comfort of their own home.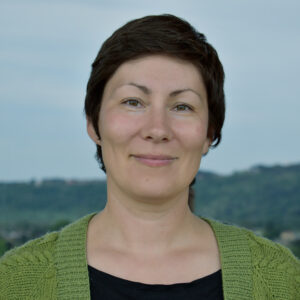 Why practical embroidery?
Practical Embroidery online school exists to teach hand embroidery techniques and applications. Embroidery skills empower us to take care of our clothes, homes, and emotional health with simple stitches.
Some years ago, I created EasyToMake designs – a blog dedicated to hand embroidery. You can still find hand embroidery video lessons, DIY tutorials, and patterns in the EasyToMake designs blog.
With every new embroidery pattern created, I felt that hand embroidery is not just art, painting with threads, or a self-expression medium.
Yes, it is all that, but It is also an efficient, down-to-earth craft and skill that can take place in our everyday life. With basic hand embroidery skills, you will mend your clothes, add a name tag to your child's tees, or embellish a handmade gift for your friend. Then, after some practice, you will create one-of-a-kind home décor pieces and upcycle your clothes.
And all these tiny stitches will benefit your mood, mental health, and sustainability. That's why Practical Embroidery online school is dedicated to hand embroidery and its application. You will notice a practical aspect in every tutorial or online course I create. Every hand embroidery pattern by Practical embroidery will come with examples of application. Every article published on this blog will give you simple and straightforward information.
Besides teaching hand embroidery at Practical Embroidery online school, I create content for other creative Blogs and Websites and offer Web editing services.
If you would like me to create Blog articles or Tutorials for you, or have ideas on how we could work together, Contact me and I'll be happy to discuss the possibilities.