Darning stitch is one of the variations of the Running stitch used for filling. This stitch is created by alternating parallel rows of the running stitch to create a pattern with both negative and positive elements. 
Other names of the Darning stitch
This stitch is also called Darned embroidery or a Tacking stitch. If the decorative design is created by alternating the positive and negative space of the stitches, it can be called Kogin stitch.
Applications of the Darning stitch:
Darning stitch is normally a form of counted embroidery worked on the even-weave ground.

As the stitch's name suggests, you can use it for darning. The fabric filled with the darning stitch will be reinforced and last longer. 

Use this stitch for other mending projects, like adding a patch or covering a stain.

You can also use the darning stitch for decorative purposes – use the darning stitch as a filling stitch to add depth and texture to your embroidery project.

Use a variation of the Darning stitch – Kogin to create decorative pieces.
More stitches from the Running stitch family family
Watch this video tutorial below and learn how to embroider a Darning stitch.
Would you like to learn this stitch while practicing? Then, check out the projects below and create something beautiful today!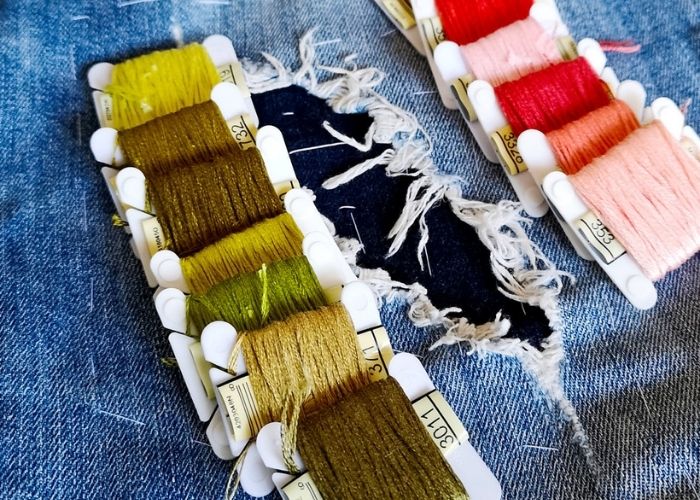 How to mend holes in jeans by hand. A simple method with running stitch embroidery
A pair of good jeans are a wardrobe staple for many of us. But unfortunately, rips, holes, and worn-out fabric are common problems with heavily worn clothes. And your favorite jeans are no exception. But, holes or rips shouldn't ruin otherwise wearable pairs of jeans. In fact, when patching up holes, you can even breathe new life into old jeans by using simple hand embroidery stitches or colorful patches. Learn a simple mending method with running stitch embroidery, and you will repair your denim with ease.
Looking for some other stitch? Head to the Stitches and Techniques part of this blog and choose the stitch you want to learn!
N.B. Some of the links may take you to the EasyToMake designs blog. This is my older hand embroidery blog. While I'm dedicating all of my energy to the Practical Embroidery blog, the previous version still has a lot of great content!
Learn with Practical Embroidery Online School!
FREE online embroidery course - The top 10 hand embroidery stitches to learn
Learn with Practical Embroidery online school!
Free online embroidery course - The top 10 hand embroidery stitches to learn