The Ultimate Guide to Water Soluble Stabilizers for Hand Embroidery
What are water soluble stabilizers for hand embroidery, and why do we use them?
The technology around us evolves every day. AI content creation, hydroponic agriculture, and solar energy are the new normal. Even if hand embroidery is a very antique and traditional craft, new technologies and innovative materials find their way into the hand embroidery world.
One of the new materials that is here to stay is stabilizers. There are a couple of stabilizer types for embroidery – tear away, cut away, or heat away. But my favorite ones are water soluble stabilizers. These are materials that provide temporary support to fabrics during the embroidery process. As their name suggests, these stabilizers are designed to dissolve entirely in water after the embroidery work is done. Depending on the producer of the stabilizer, these products can also be called magic paper, wash-away stabilizers, dissolvable fabric, water activated stabilizers, or water dissolvable stabilizers.
Made from materials like polyvinyl alcohol (PVA), these stabilizers usually come as films, sheets, or mesh fabric that dissolve in water. Some of them are even made as a sticky adhesive.
All these dissolvable stabilizers have several functions:
The primary function is to ensure that the fabric remains taut and that the embroidery doesn't pucker or distort, especially when working with intricate designs or delicate fabrics. Fabric stabilization with wash away stabilizers is beneficial when embroidering stretchy fabrics like jersey or knitwear.
Another function of these stabilizers is to help us transfer the embroidery pattern to the fabric. It is beneficial when the material is dark, very dense, or has a surface structure, making design transfer almost impossible. You can even put some water soluble stabilizers into the printer and print the design directly on the stabilizer. Pattern transfer has never been easier than that.
One more function of dissolvable stabilizers is that they help keep the stitches from disappearing in high-pile fabrics like velvet or terry and make stitching on these complex materials easier.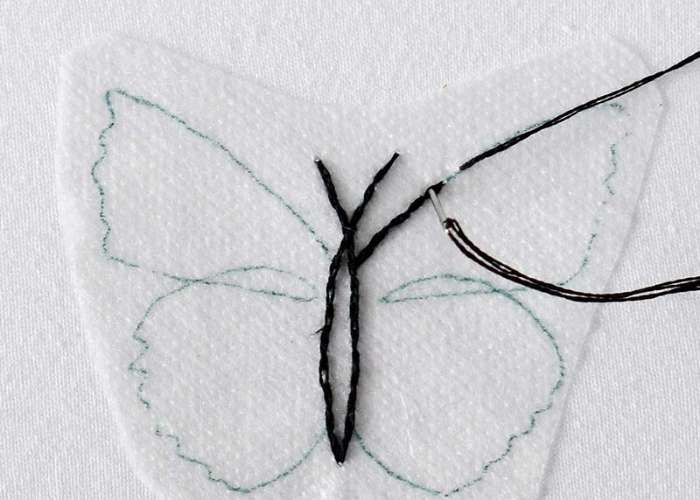 Disclaimer: This post contains affiliate links. I may earn a commission if you use these links to buy something. Thanks for your support!
How do you use water soluble stabilizers?
A step-by-step guide to applying wash away Stabilizers
Start with transferring the pattern to the stabilizer. Most stabilizers are transparent or semi-transparent, so you can simply layer the stabilizer above the image and repeat all the design lines. Some stabilizers are printable. In this case, print the pattern directly to the stabilizer.
Cut the piece of soluble interfacing with the pattern and position it on the fabric. If the stabilizer is not adhesive, pin it to the material or attach it with the running stitches.
If your fabric has a high pile or is highly stretchy, use a more significant piece of the stabilizer and frame it into the hoop with the material. This will keep the tension of the fabric and the pattern fixed in one place simultaneously.
If the stabilizer is adhesive – cut the piece of stabilizer with the design, peel the backing paper, and attach it to the fabric.
That's it! Simply treat water soluble stabilizer like a regular fabric while embroidering.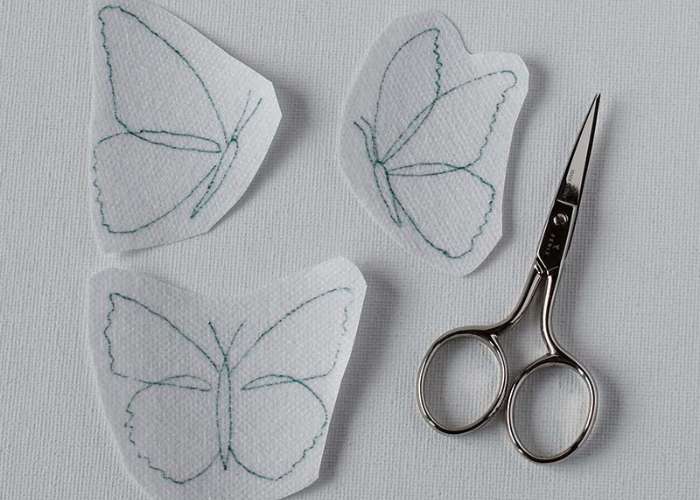 Removing dissolvable fabric
When you finish the embroidery, you are ready to dissolve the stabilizer.
First, remove the embroidery from the hoop.
Cut away as much of the stabilizer as you can. Less stabilizer you need to dissolve – faster and more straightforward it will be.
Place the embroidery with the stabilizer into the lukewarm water and let it stay for a while. You will see the stabilizer dissolving. The time it will take to fully dissolve will depend on the type of stabilizer. Always read the instructions of the producer of the stabilizer on how to remove their product first.
You do not need to rub or squeeze the embroidery. Just give it some more time.
After all the stabilizer is gone, rinse the embroidery with running water before it dries again. After the embroidery is dry, if you feel that the fabric is stiff or some residue is left, simply wash the embroidery one more time.
Application tips for soluble stabilizers
Use shorter threads. The longer your working thread, the more times it will have to pass through the stabilizer and the fabric. This can cause the loss of the sheer of the thread (because of the friction) and make it a bit sticky (if your stabilizer is adhesive).
To prevent the loss of the sheer of the thread – use the beeswax thread conditioner. It will protect the thread from friction.
Keep your hands clean and dry while you work. Wet hands may cause some disruption of the stabilizer.
Be careful about the environment where you embroider. Avoid scorching and humid places like swimming pools, saunas, or beaches. Impacted by the wet environment, water soluble stabilizers can dissolve as you work, lose the stickiness, or deform.
Clean the needle with a wet wipe if you feel the needle is sticky.
Common mistakes to avoid when using water soluble stabilizers
When you transfer the embroidery pattern to the stabilizer, choose the transfer tools carefully. Remember that you must submerge the embroidery in water, so any pen that bleeds can ruin your finished embroidery. Pick a friction pen, pencil, or water-soluble transferring pen for pattern transfer.
You should never steam iron the stabilizers, as they will start dissolving with the water from the iron's steam.
Store your water soluble stabilizers in a cool, dry place, far from direct sunlight and humidity. Over an extended period, water soluble stabilizers can degrade, especially when exposed to extreme temperatures or moisture. The best place to store stabilizers is an airtight box or zip-lock bag.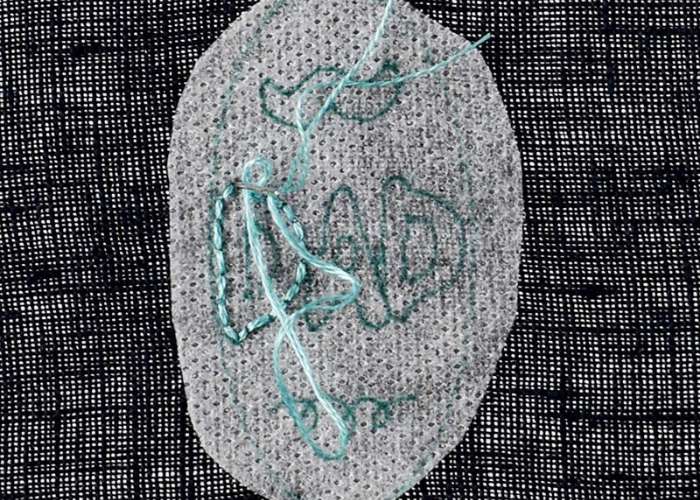 Choosing the Right dissolvable Stabilizer
A wide range of water soluble stabilizers is available in craft shops and online. Here are some factors to consider when choosing one:
Do you plan to print embroidery patterns with your printer or transfer them by hand? Usually, the water soluble stabilizers in the sheets ready for the printer have a slightly higher price. Still, it can be very convenient, especially if you do not use a ton.
What size is your embroidery pattern? You can find water soluble stabilizers in the sheets of A5 and A4 or the rolls. A5 sheets are great for small patterns. A4 – the standard printer sheet is the most convenient size for most patterns.
Do you want an adhesive water soluble stabilizer? This stabilizer is excellent for smaller patterns as you can use them as stickers and use a peel, stick, and stitch approach. The downside of these stabilizers is that they will not stick to high-pile fabrics. Also, some adhesive water soluble stabilizers gum up your needle and make it feel sticky.
What kind of fabric are you going to embroider on? Water soluble stabilizers come in different weights that can fit your material best. Choose lightweight stabilizers for tulle or other sheer and light fabrics. And heavier mesh water soluble stabilizers for heavier linens, cotton, or canvas.
What is your embroidery project? There are water soluble stabilizers made especially for counted stitch embroidery. These stabilizers allow embroidering counted stitch embroidery on non-counted fabrics without drawing a square grid. It is convenient if you want to apply a cross-stitch pattern to your jeans, t-shirt, or tote bag.
Where to buy water soluble stabilizers?
After considering all the information mentioned above and knowing what kind of stabilizer you need, it's time to buy some water-soluble stabilizers for your next project.
Look for these stabilizers at your local craft, fabric, or notion shop. And, of course, you will find plenty of options online:
Joann.com online store has a wide range of water soluble stabilizers.
DMC, the famous producer of embroidery floss, offers water soluble stabilizers under the name of Magic paper. You can choose the sheets of A5 and A4. Besides that, you can select the paper with the grid for more effortless pattern transfer.
Sulky is one of the best-known producers of stabilizers. You can shop on their website.
Pellon is another renowned producer of stabilizers and craft supplies. They have a shop on their website, too.
Amazon offers almost all the options available on the market. Here are some of the choices:
Frequently asked questions about wash away stabilizers
What are water soluble stabilizers?
A water soluble stabilizer is a temporary embroidery backing material that dissolves in water after the embroidery is done without residue. We use it to layer with our embroidery fabric to stabilize it and to transfer the pattern to the material.
How do water soluble stabilizers work?
– The stabilizer with the embroidery design is layered above the fabric.
– Embroidery is made through both layers – the material and the stabilizer. 
– The embroidery is washed to remove the stabilizer.
What are the different types of water soluble stabilizers?
– Water soluble stabilizers come in different shapes and sizes. You will find these wash-away stabilizers in sheets (A5, A4) or in rolls of various lengths. 
– Soluble stabilizers can be made as a mesh fabric or film. They also vary in weight.
– Dissolvable stabilizers can be sticky and non-sticky. Sticky water soluble stabilizers have a paper backing and work as stickers. You peel them from the paper backing and apply them to the fabric.
Can you draw on a water soluble stabilizer?
Yes! Water soluble stabilizers are a convenient tool for pattern transfer. Some of the stabilizers are even printable. Be careful when you choose a tool for drawing! The pen or pencil you will use should not bleed when wet, as you must wash the finished embroidery. I use a friction pen or a simple pencil for pattern transfer on the water-soluble stabilizer.
Are water soluble stabilizers eco-friendly?
Even if it may look like it, these dissolvable fabrics are not made from actual plastic. The main ingredient of these stabilizers is polyvinyl alcohol (PVOH), a synthetic biodegradable polymer without toxic metals that does not release harmful chemicals when it degrades.
You can learn more about this material on the Green Eco Dream blog.
What are the Top brands of water soluble stabilizers?
– Sulky 
– DMC
– Pellon
Final thoughts on Water soluble stabilizers
Water soluble stabilizers are a great innovation in hand embroidery. They are simple to use and handy for pattern transfer and stabilizing stretchy fabrics like jersey or knitwear. Using a simple stabilizer can make the hand embroidery process more enjoyable and the results much more pleasing.
Benefits of water soluble backings:
Easy pattern transfer
Stabilization of the stretchy fabrics
Possibility to embroider on high-pile fabrics
How to use water soluble stabilizers?
Transfer the pattern to the stabilizer.
Layer the stabilizer with the fabric (or stick it to the material).
Embroider.
Wash away the stabilizer.
Different types of dissolvable stabilizers:
You can choose from sticky and non-sticky water soluble stabilizers.
Stabilizers can be made as a film or as a mesh fabric.
Washaway stabilizers come in sheets or in rolls of various lengths.
Where can you buy the water soluble stabilizers?
More about hand embroidery tools and materials: