Hand embroidery is a manual, and creative skill practiced, preserved, and passed for centuries, from one generation to another. So people were embroidering for ages. But why?
Hand embroidery has excellent benefits for our mental health, wallet, and even the planet. Let's see my list of 10 reasons to learn this antique art and all the benefits of hand embroidery.
Hand embroidery is good for our mental and physical health
Hand embroidery can:
Help alleviate stress,
Reduce anxiety,
Lower blood pressure and decrease heart rate,
Help your brain recover from the injury,
Give you a sense of accomplishment,
Fill in empty time,
Keep you away from the screen.
The focus on a creative yet repetitive task helps our brain calm down and zone out.
You can read more about the benefits of hand embroidery in an article by the Crewel Work Company, ' World Mental Health Day – Embroidery as Therapy.'
It is an excellent self-improvement medium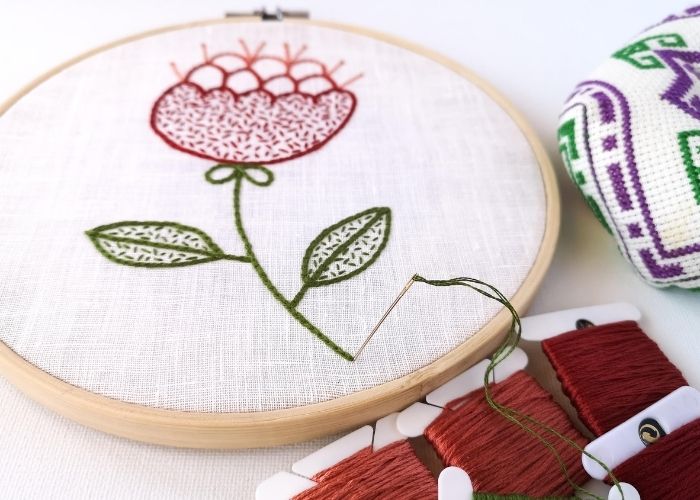 Hand embroidery will help you build:
Patience. In the fast world, patience is a rare quality. Hand embroidery requires a lot of patience and helps you build it too.
Self-confidence. Completed embroidery projects can generate feelings of accomplishment and build self-confidence.
Attention to detail and concentration.
Hand embroidery is wallet-friendly
Starting a new hobby is usually an investment. Many hobbies have a long list of expensive materials and tools that you have to buy before even trying them.
One of the benefits of hand embroidery is the low cost of the craft. It's enough to have a needle, a thread, and a piece of fabric, and you are good to start.
If you want to have a try – a simple sewing needle, sewing thread, and a piece of old cloth will do the work. Then, if you like it, you can buy an embroidery needle and some embroidery floss. Still, you can also continue embroidering with non-specialized materials.
Besides low entry costs, hand embroidery skills can save you some money. You can use your embroidery skills and save some money by:
Mending your broken clothes.
Embellishing your clothes and becoming a fashionista on a low budget.
Making original hand embroidered gifts for your friends and family.
Hand embroidery has many practical applications
Hand embroidery is not just art, painting with threads, or self-expression medium.
Yes, it is all that, but It is also an efficient, down-to-earth craft and skill that can take place in our everyday life. With basic hand embroidery skills, you will mend your clothes, add a name tag to your child's tees, or embellish a handmade gift for your friend.
Then, after some practice, you will create one-of-a-kind home décor pieces and upcycle your clothes.
So, besides all other benefits, hand embroidery is also an efficient craft that can help us take care of our clothes and homes daily.
Hand embroidery is an eco-friendly hobby
One more point on the list of the benefits of hand embroidery – it is a very earth-friendly craft. So if you are looking for a way to lower your carbon footprint – you should learn hand embroidery!
Most of the materials we use in hand embroidery are natural – cotton, linen, wool or silk fabrics, and threads.
The process of hand-embroidery does not require electricity, water, or gas consumption.
Practical applications of hand embroidery like mending or embellishing clothes reduce the environmental impact of our wardrobe.
Some hand embroidery techniques will allow you to use scrap threads, yarns, and fabrics.
Hand embroidery is easy to learn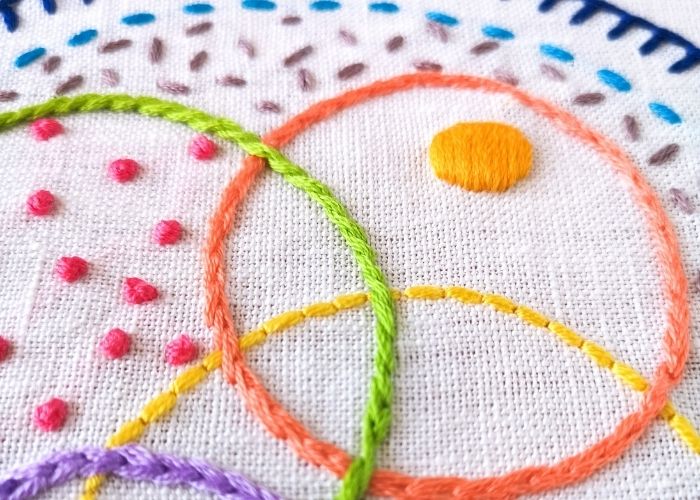 All you need to start embroidering are simple stitches that are easy and fast to learn. Then, after some practice, you can choose more complex patterns and add new stitches to your vocabulary. But most embroidery artists say that 5-10 basic stitches are more than enough to create art.
There are many hand embroidery patterns, video tutorials, and courses online. You can start learning embroidery by enrolling in my free mini-course – 'The top 10 hand embroidery stitches to learn'.
Hand embroidery is portable
How often did you regret that you can't take your hobby with you and practice it during the holidays or business trips?
Hand embroidery is very portable. You can take your embroidery on a bus, airplane, to the beach, hotel room, or even the tent in the camping (unless you are embroidering something monumental :)). The tools and materials are small, and usually, all your work can fit in a small craft bag. Also, there is no preparation involved.
So take it with you everywhere you go and enjoy every minute of embroidery.
There is an embroidery style and technique for every taste
Those who admire classic embroidery would probably like Crewel embroidery, Whitework, or Jacobean embroidery.
Admirers of the order would go for counted embroidery techniques like Cross stitch, Blackwork, Assisi work, Canvas work (needlepoint), or Chicken scratch embroidery.
Needle painting – also called thread painting or silk shading – is for those who like realistic fine arts. This embroidery technique is also widely used for embroidery of portraits (also pet portraits).
You can choose Bead embroidery, Luneville (Tambour), or Goldwork for more luxury looks.
Slow stitching. It's not an embroidery technique but an embroidery philosophy for those who choose process over final results.
If you like bold looks – 3D embroideries, like Silk ribbon embroidery, Brazilian embroidery, or Stumpwork – are your choice.
Sashiko and Boro (from Japan), Kantha (from India and Bangladesh) embroidery – traditional embroidery techniques that are widely used for mending clothes
Modern surface embroidery – the mix of all the above techniques, styles, and more. It's the use of traditional embroidery stitches in unconventional ways, classical methods on modern fabrics, and a mix of different techniques in one work.
I prefer modern embroidery as it gives me the freedom to mix all the stitches I like and use them as I want. In addition, contemporary embroidery allows me to freely choose the fabric and threads and create original pieces.
Hand embroidery is a hot trend right now
When I started posting my embroidered work on Instagram, the #handembroidery hashtag had about 1 mln posts. Now it has almost 4,5 mln posts and is growing daily.
Hand embroidery workshops are offered as baby shower activities and mindfulness practice. And you can find embroidery classes not only on Craftsy or Domestica but also on learning platforms like Udemy.
So, If you want to follow the trend, hand-embroidery skills are must have's now!
It's an authentic means of self-expression
Handmade embroidery stitches are not as perfect as the ones made by machines. And that is great! It makes hand embroidery very original, human, and personal.
Express your unique sense of colors and design, and show the world who you are!
Wear visibly mended clothes as a protest against fast fashion!
Embroider the slogan on your tees to express your political views!
Brighten up your home with original pieces of décor!
Create one-of-a-kind, personalized gifts.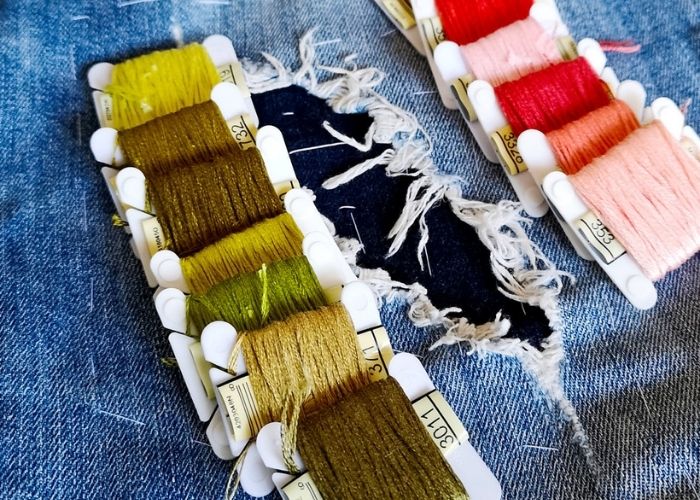 In conclusion
Hand embroidery is a great antique yet modern craft that is trendy. It is beneficial for your mental wellbeing, wallet, and the planet.
I made a list of the benefits of hand embroidery:
Hand embroidery is good for our mental and physical health.
It is an excellent self-improvement medium.
Embroidery is a wallet-friendly hobby.
It has many practical applications.
This craft is eco-friendly.
Hand embroidery is easy to learn.
You can embroider anywhere – it is so portable.
There is an embroidery style and technique for every taste.
Hand embroidery is a hot trend right now.
It's an authentic means of self-expression.
Would you add anything to my list of the benefits of hand embroidery? Which one is your reason to embroider?
Want to start embroidering today?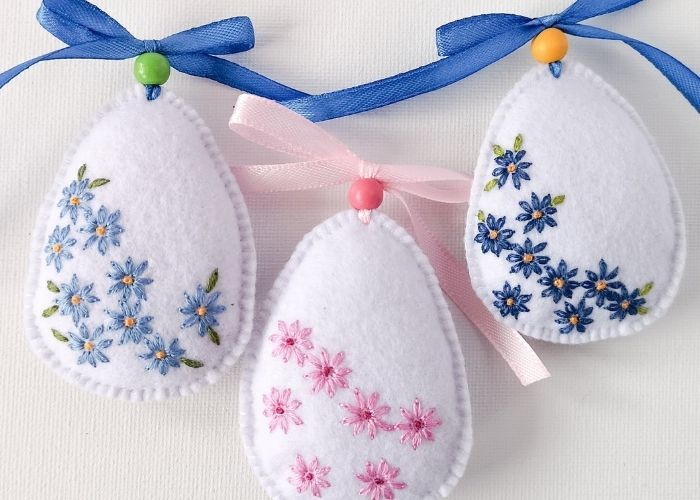 Did I convince you? Then you should:
Sign up for a free mini-course.
Grab your tools and materials.
Choose a project to express yourself.
See you with a needle and thread!