An in-depth guide to hand embroidery fabrics. Discover what is the best fabric for hand embroidery and why
The start of the new embroidery project is so exciting and thrilling. First, you draw a design or choose a pattern that you like. Then, you think about the colors and the stitches you will use.
Then, you need to choose materials for your projects – the fabric and the threads. It can be intimidating, especially in the beginning. I made some mistakes in the past and would like to save you some. So, I wrote this guide to embroidery fabrics that will help you make a choice without double guessing!
You can embroider on anything – from cotton canvas to plastic bags, silk, leather, bulky knitwear, or tule. You can even embellish wood or paper. But, if you are reading this guide, I guess you are up to something less challenging.
The general recommendation for embroidery fabrics is a medium-weight natural fabric with a tight weave (high thread count). It will do well for any surface embroidery project.
But to make an educated choice, many variables must be considered. So when choosing fabric for your next embroidery project, consider the following:
What is the purpose of embroidery? Is it going to become a wall hanger, decorative art, cushion cover, patch, brooch, piece of clothing, or table textile?
Are you planning on washing the finished embroidery? Just once or more often?
What is your level of experience?
How much are you willing to spend on embroidery fabric?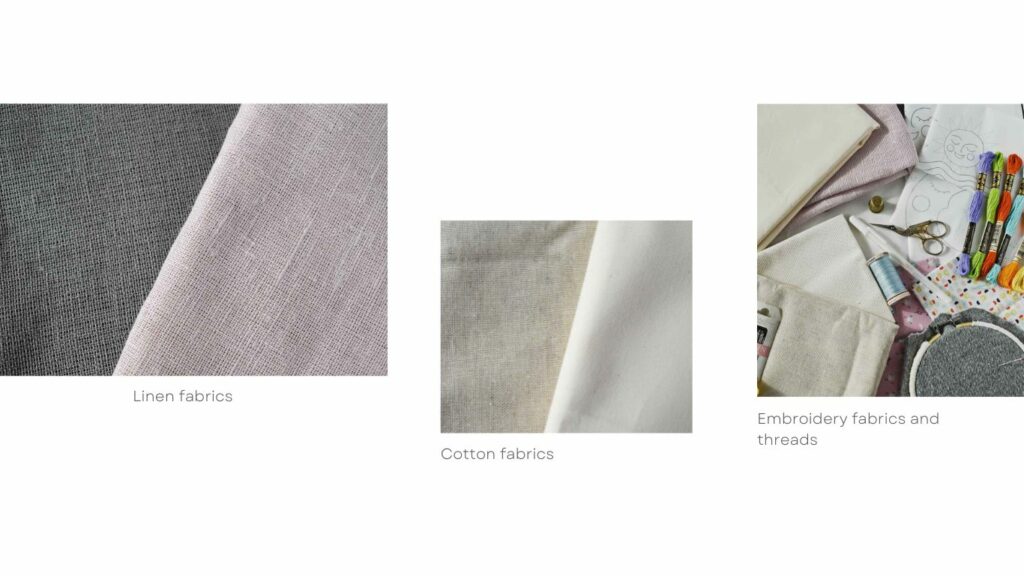 Main characteristics of the embroidery fabrics
We should learn some theories to make an educated choice of the best embroidery fabric.
All the fabrics can be categorized by:
Type of fibers
Weaving type
Fabric weight
Thread count
Fibers – natural or synthetic fibers?
I am very conservative here and go for natural fibers. My favorites are cotton and linen and their blends. In addition, silk, wool, bamboo, and hemp are great natural fibers for embroidery fabrics.
I know that embroidery fabrics from natural fibers are more expensive, but:
Fabrics from natural fibers are more environmentally friendly
Natural fabrics are durable
Fabrics from natural fibers do not leave microplastics
Natural materials are pleasant to hold in hand and to work with
Embroidery fabrics from natural fibers simply look better and more luxurious
Weaving type
There are three main embroidery fabric categories by weaving type:
Nonwoven fabrics, such as felt.
Knitted fabrics, such as cotton jersey, french terry cloth fabric, or hand-knitted clothing.
Woven fabrics, like cotton, linen, silk, bamboo, hemp, or wool.
Nonwoven wool felt is great for making embroidered ornaments, plushies, brooches, and appliqué work. This felt fabric is easy to work with as it doesn't fray on the cuts and doesn't stretch.
Knitted fabrics can be embroidered too. For example, you can embellish your sweatshirt, t-shirt, or heavy-knit wool sweater. But do not choose these fabrics as a base for a hoop art or wall hanger as they are too stretchy and do not hold the shape.
As mentioned before, knitted fabrics are stretchy. Therefore they require some special techniques and a little bit more experience. Some tips:
Use a stabilizer to manage the stretchiness of the jersey fabric. Choose a removable stabilizer or no-show mesh.
Do not close your embroidery hoop too tight to avoid damaging the garment's fabric.
Carefully choose embroidery stitches, as some stitches are more stretchy than others. Non-stretchy stitches may break if applied around the neck or other garment areas that stretch often.
Woven fabrics are the most common choice for all other embroidery projects. I will describe some types of woven fabrics in the second part of this article.
Fabric weight
Fabric weight is measured in grams per square meter or g/m2 (abbreviated as GSM). The weight may affect the density, thickness, and many physical properties of the fabric, such as strength.
By weight, fabrics are:
Lightweight – 50-150 GSM. Usually, fabrics like muslin, chambray, gauze, gingham, jersey, quilting cotton and lawn fall under this category.
Medium weight 150-250 GSM. Calico, Kona cotton, many linen fabrics, and linen-cotton blends fall under this category.
Heavyweight 250-450 GSM. Heavy linen, rigid denim, wool coating, sweatshirt fleece, heavy canvas, and other heavy fabrics.
Thread count
Thread count, also called threads per inch (TPI), is a measure of the coarseness or fineness of fabric. It is measured by counting the number of threads in one square inch of material, including the length (warp) and width (weft) of threads. The thread count is the number of threads counted along two sides (up and across) of the square inch (from Wikipedia).
Thread count is often used to measure the quality of the fabric. "Standard" cotton thread counts are around 150. At the same time, "good-quality" sheets start at 180 – 200 or higher. Some linen experts claim that there is no difference in quality beyond a thread count of 400.
I noticed that thread count is rarely indicated in the description of the fabric. But in general, it is enough to remember that the best embroidery fabrics have a high thread count. And you can see with a bare eye if the material has a high thread count.
Embroidery fabrics to choose from
Kona cotton
This cotton is popular amongst embroiderers. It is a medium-weight (200 gsm) 100 % cotton fabric in many plain colors that has a plain weave and a high thread count – everything you need for a good embroidery fabric. This cotton is also popular as quilting cotton, so you will find it in most quitting stores and online.
Cotton Calico
It is simple, not expensive, equal weft and warp plain weaved fabric in white, cream, or unbleached cotton. It can be light or medium weight and is often used as a fabric to test the stitches or to layer under other lightweight materials for stability.
Soft calico (also called muslin) can be a good choice as the main fabric for embroidery. I use preprinted soft calico fabric for my kits, and it's an embroidery fabric that is really nice to work with.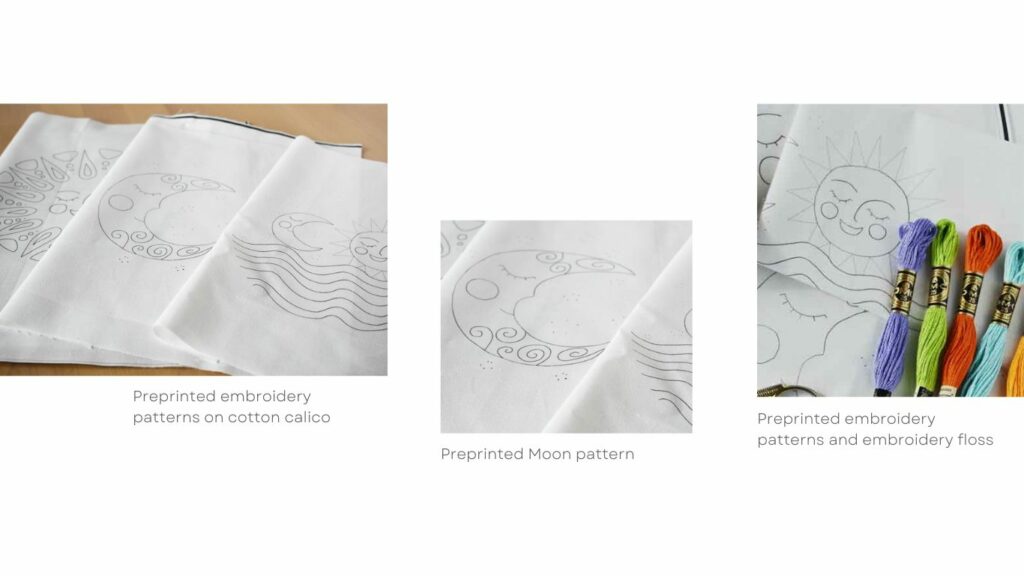 Cotton Canvas
It is a great heavier embroidery fabric. Use it if you want to sew a tote bag or something durable with your embroidery. Usually, cotton canvas weighs from 250 to 450 gsm, and the thread count is not very high.
Duck canvas
It is slightly lighter in weight than cotton canvas and has a higher thread count and a plain weave. Therefore, it is an excellent choice for surface embroidery. There is a wide choice of solid colors too.
Quilting cotton
It is relatively lightweight for hand embroidery but comes in millions of beautiful colors, patterns, and designs. If your embroidery project calls for colorful fabric – choose quilting cotton and layer it with a calico for stability.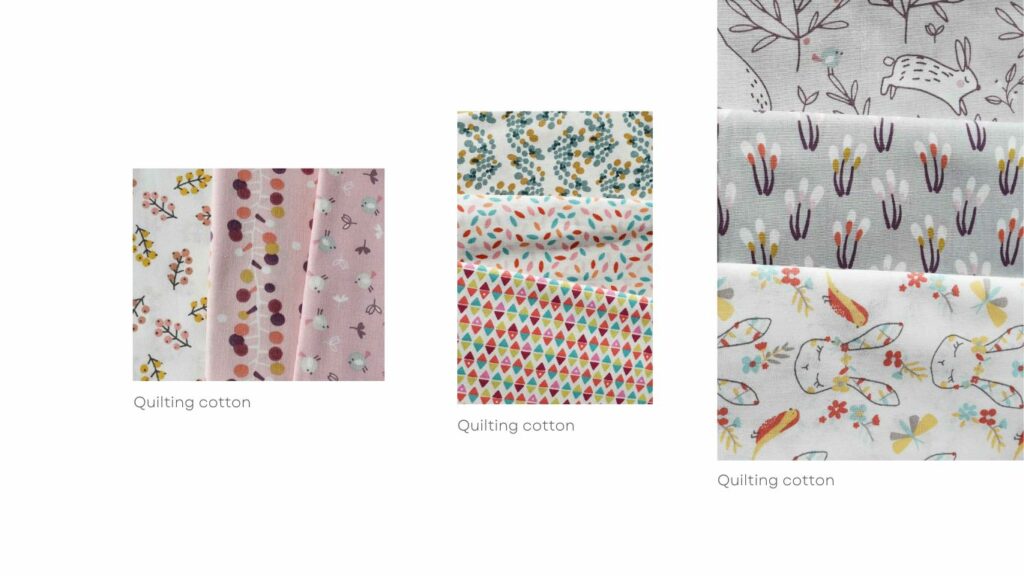 Cotton twill
It is a medium-high-weight cotton fabric with a diagonal weave. It is rather sturdy and has a high thread count. Also, this fabric has an excellent surface. Choose cotton twill to embroider and sew pillow covers, zipper pouches, or make wall hangers.
Denim
It is also a medium-high-weight cotton fabric with a diagonal weave. It is a good embroidery fabric choice if you use thicker embroidery threads and sew denim clothes or household objects with embroidered denim.
Linen fabrics
These are great for embroidery. Choose a non-counted linen fabric for surface embroidery in medium weight and high thread count. There are color options too. It can be white, natural, or colored. Keep in mind that linen fabric tends to shrink. Therefore it has to be prewashed before embroidering. Also, it is relatively expensive, so choose it for meaningful projects.
Linen twill
It is a traditional embroidery fabric for crewel embroidery. It has a diagonal weave and a high thread count. You can also use it for modern surface embroidery if your project requires twill fabric.
Linen-cotton blends
Many blended fabrics work great for hand embroidery purposes, and these are usually cheaper than pure linen fabric. Look for the medium weight (150-200 gsm) and high thread count evenly woven options. This way, you will have a wide choice of embroidery fabrics. In addition, these blended materials usually come in many solid colors.
Silk fabric
Silk is a luxury of hand embroidery. Look for plain weave, medium weight, and high thread count. But if you are planning to embroider on silk, I guess you are a professional, and you don't need to read this guide:)
Aida
It is a type of canvas made especially for cross-stitch embroidery. Avoid this fabric if you plan a surface embroidery project other than cross stitch.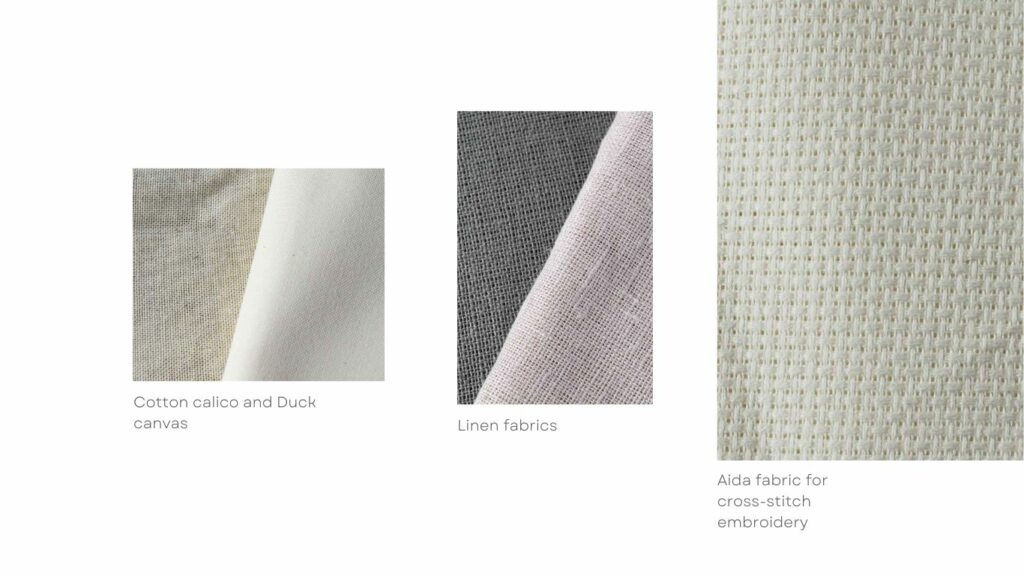 You will also need specialist fabrics or canvas for tapestry work and pulled thread techniques. For example, Hardanger embroidery, where you cut the fabric threads to create the design. Mono canvas, double-mesh canvas, and interlock mono canvas are made for canvas work.
Other options for embroidery fabrics
Keep in mind that the list of embroidery fabrics above is totally indicative. These are only essential tips on choosing and using the materials.
If you can afford it and need a high-quality fabric for an important embroidery project – go to a specialized craft store. Choose the best quality linen or silk embroidery fabric.
Opt for cheaper alternatives for other stitching practices, learning to stitch, or testing. Hand embroidery doesn't have to be an expensive hobby. You can often pull out an excellent embroidery project on basic embroidery fabrics.
Other great sources of embroidery fabrics:
Fabric leftovers from sewing or quilting projects
Fabric cut-offs sales at fabric stores
Unwanted clothes made from nice material – try to use them for embroidery.
Old home textiles like tablecloths or bed linens. Cut out non-damaged pieces and use them for embroidery.
Charity shops. You can find some quality fabrics at a lower price there.
In conclusion
When choosing embroidery fabrics for modern surface embroidery, the general rule is that medium-weight, high thread count natural fabrics with even weave are the best. You can choose from cotton, linen, or cotton-linen blends.
Some embroidery techniques, like cross-stitch, tapestry work, or Hardanger, require specialist fabrics.
If your final embroidered product requires a specific type of fabric – go for it. And of course, if your artistic idea calls for a particular material, go for it.
Experiment, play with different fabrics, and find your favorite one!
More about hand embroidery tools and materials: