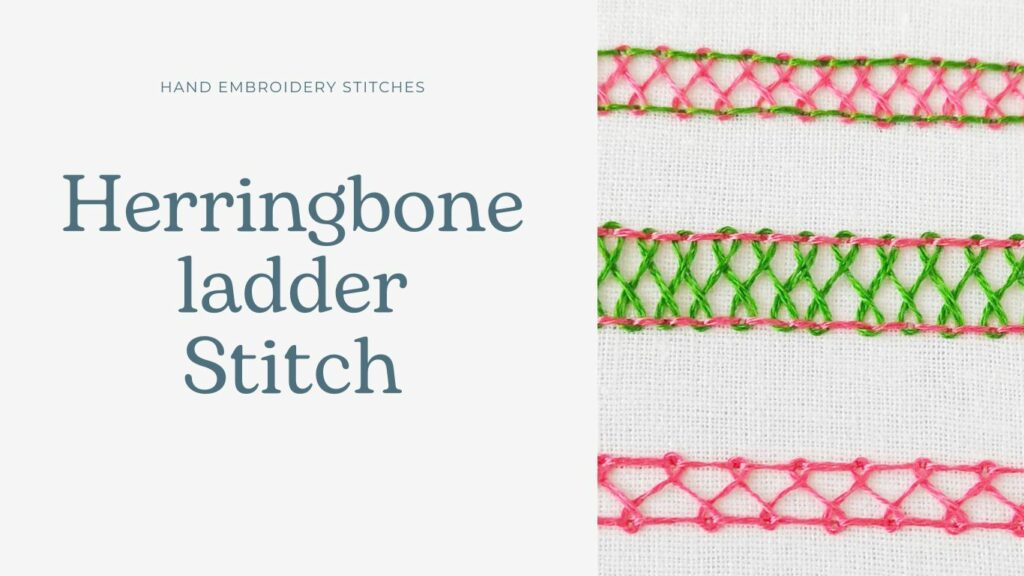 Herringbone Ladder Stitch
A Herringbone ladder stitch is a hand embroidery stitch made combining the foundation stitch (back stitch) and threading.
After embroidering two parallel lines of the backstitch, loop the thread through the backstitches without entering the fabric or crossing the backstitch. This threading, made in precise order, creates a decorative stitch perfect for decorative borders.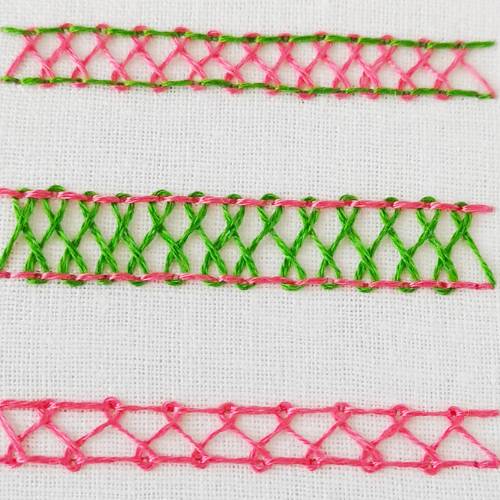 Application Of The Herringbone Ladder Stitch
Herringbone ladder stitch is a simple but very decorative stitch. You can use it for borders, outlines, or even lettering.
You can embroider the Herringbone ladder stitch in a single color and create a single-color design or choose two contrasting colors to create exciting patterns. The distance between two parallel lines of the backstitches and the stitches' size will define how dense the stitch will be. Play with colors and sizes and see what beautiful color combinations you can create with this simple stitch!
Use a blunt needle, like a tapestry needle, for the lacing stitches.
Instead of a blunt (tapestry) needle, you can use the eye of your regular needle. Be careful not to snag the backstitches or the fabric under and not to hurt your fingers!
You can learn more about the needles in this article – "Hand embroidery needles and all you need to know to choose the right one."
Video tutorial
If you are a visual learner, watch a video tutorial below or on the Practical Embroidery YouTube channel. In this video, you'll find easy-to-follow, step-by-step instructions that will have you creating the Herringbone ladder stitch like a pro in no time.
What's next?
If you're in the mood to explore more hand embroidery stitches, check out the Stitches and Techniques page for the list of other fantastic stitches available on my blog. From timeless classics to modern twists, a whole world of stitches is waiting for you to explore and master. So, grab your hoop and needle, and let's stitch our way to creative bliss!
Need More Guidance?
The top 10 hand embroidery stitches to learn is a free online course created for beginners.