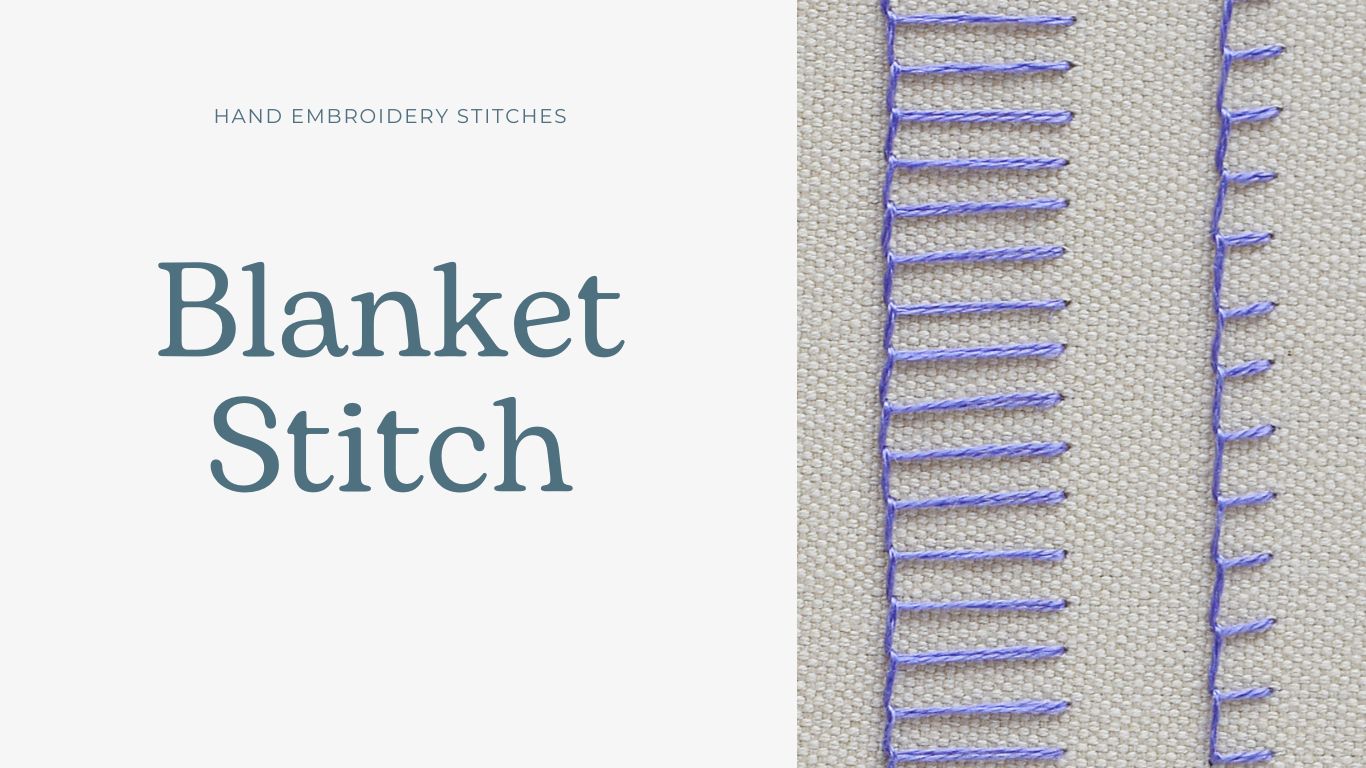 The blanket stitch is an essential stitch on the list of the best embroidery stitches. It was used to finish the edges of blankets and other household textiles like tea towels and pillowcases. 
Now we use a this stitch to finish an edge of the garment, attach an appliqué, for sewing felt ornaments, or as a decorative stitch all on its own. There are many ways to use this stitch as a decorative stitch – from flowers and leaves to filling and outlining.
Blanket stitch looks excellent as a border design stitch, especially combined with other stitches or made as a interlocking buttonhole stitch. Also, it has great applications as a filling stitch because you can apply it in lines or in circles – as your design requires.
Blanket stitch hand embroidery is very simple, yet – it has many visual possibilities. You can make stitches long or short, dense or distanced. Also, you can play with different rhythms of the embroidery patterns. For example, you can change up the density or the length of the stitches and create a playful design. Otherwise – keep the same height and density and maintain a clear repetitive visual pattern.
Other names of the stitch
It is also called a buttonhole stitch, but you should know the difference between them. When the stitches are placed very close to each – the stitch is called a buttonhole stitch. When the stitches are spaced – it is a blanket stitch. Also, you can find it by the names of blanket edge or open buttonhole stitch. A blanket stitch may also be called a cable stitch or a crochet stitch in sewing.
Applications of the stitch
This stitch is versatile and has many ways of application:
Use it to finish a raw fabric edge – reinforce the material and decorate it

It is excellent for sewing ornaments from felt fabric
One of the best ways to attach an appliqué
Great for mending clothes and textiles 
Beautiful decorative stitch all on its own
Combine the blanket stitch with other decorative stitches and embroider decorative borders
Buttonhole edging stitch is widely used in cutwork embroidery
Some variations of the Blanket stitch
Buttonhole wheel
Buttonhole bar
Blanket stitch filling
Rosette of thorns
Watch a video tutorial below and learn how to embroider this stitch.
In case you need more guidance, sign up for my hand embroidery online course – "The top 10 hand embroidery stitches to learn". This course is free and teaches all the stitches from the list of the best embroidery stitches. Besides that, a free pdf embroidery pattern download is included in the course.
Looking for some other stitch? Head to the Stitches and Techniques part of this blog and choose the stitch you want to learn!
NB. Some of the links may take you to the EasyToMake designs blog. This is my older hand embroidery blog. While I'm dedicating all of my energy to the Practical Embroidery blog, the previous version still has a lot of great content!
Learn with Practical Embroidery Online School!
FREE online embroidery course - The top 10 hand embroidery stitches to learn
Learn with Practical Embroidery online school!
Free online embroidery course - The top 10 hand embroidery stitches to learn