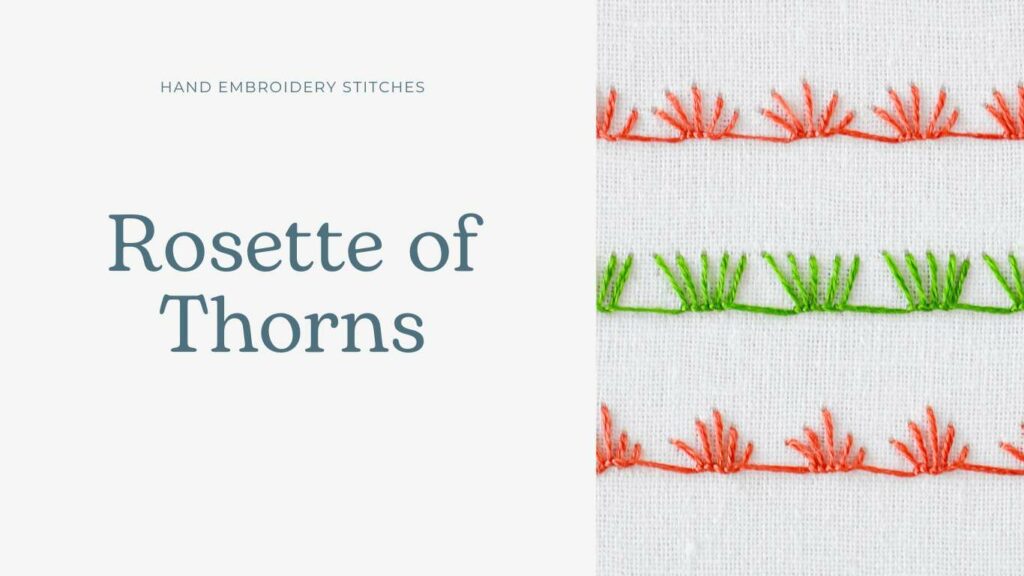 Rosette of Thorns
Rosette of Thorns hand embroidery stitch is a decorative variation of the Blanket stitch. Blanket stitches are grouped into sets of five stitches. Depending on the design, they can create a wavy or triangular line. This grouping creates an exciting and decorative motive.
Applications of the stitch
A Rosette of Thorns stitch looks excellent in border designs. Also, you can use it as a decorative stitch on the seams. It can be combined with other decorative stitches, like French knots or lazy daisies, to create unique embroidery designs.
Besides decorative embroidery and edging, Rosette of Thorns is widely used in crazy quilting.
How to embroider Rosette of Thorns stitch
Mark a line on the fabric. Divide the space into equal sections. Additionally, you can mark the shape of the fans you want to make. You will embroider five stitches in every group.
Start embroidering from the left corner. Make the first blanket stitch on the marked shape and come up at the center, leaving the loop of the working thread open.
Close the loop and make a second stitch.
Make all five stitches, placing them evenly on the desired shape.
Move to the next marked space. Embroider five blanket stitches.
Embroider the groups of five blanket stitches until you fill the whole design.
You can vary the shapes of the stitches. In my example, the first row is shaped in semi-circles. The second one is embroidered on two parallel lines. And the third row is shaped like a triangle.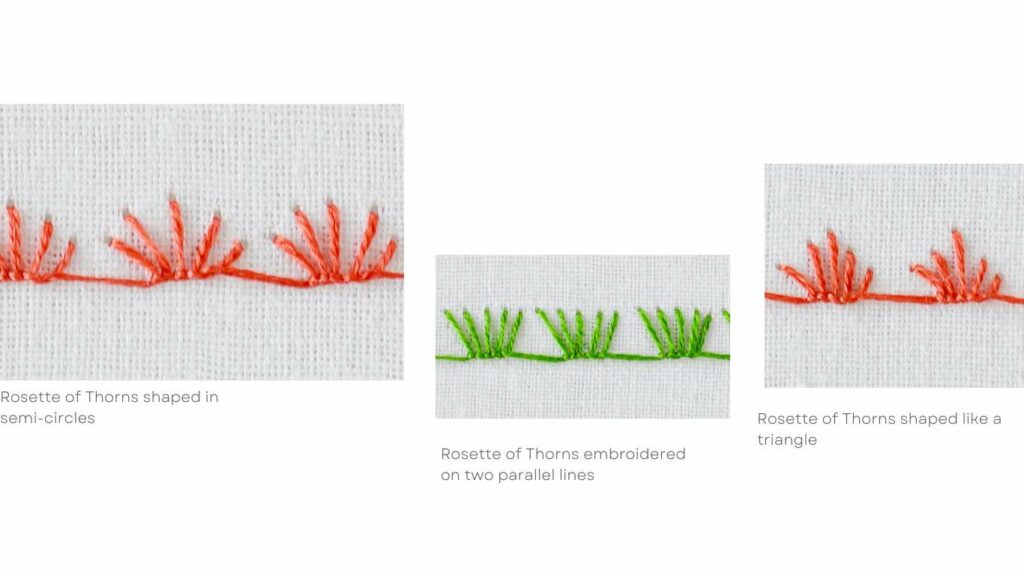 More stitches from the Blanket stitch family
Video tutorial
If you are a visual learner, watch a video tutorial below or on the Practical Embroidery YouTube channel.
What's next?
Looking for some other stitch? Head to this blog's Stitches and Techniques page and choose the stitch you want to learn!
N.B. Some links may take you to the Easy To Make Designs blog. This is my older hand embroidery blog. While I'm dedicating all of my energy to the Practical Embroidery blog, the previous version still has a lot of great content!
[elementor-template id="3547″]