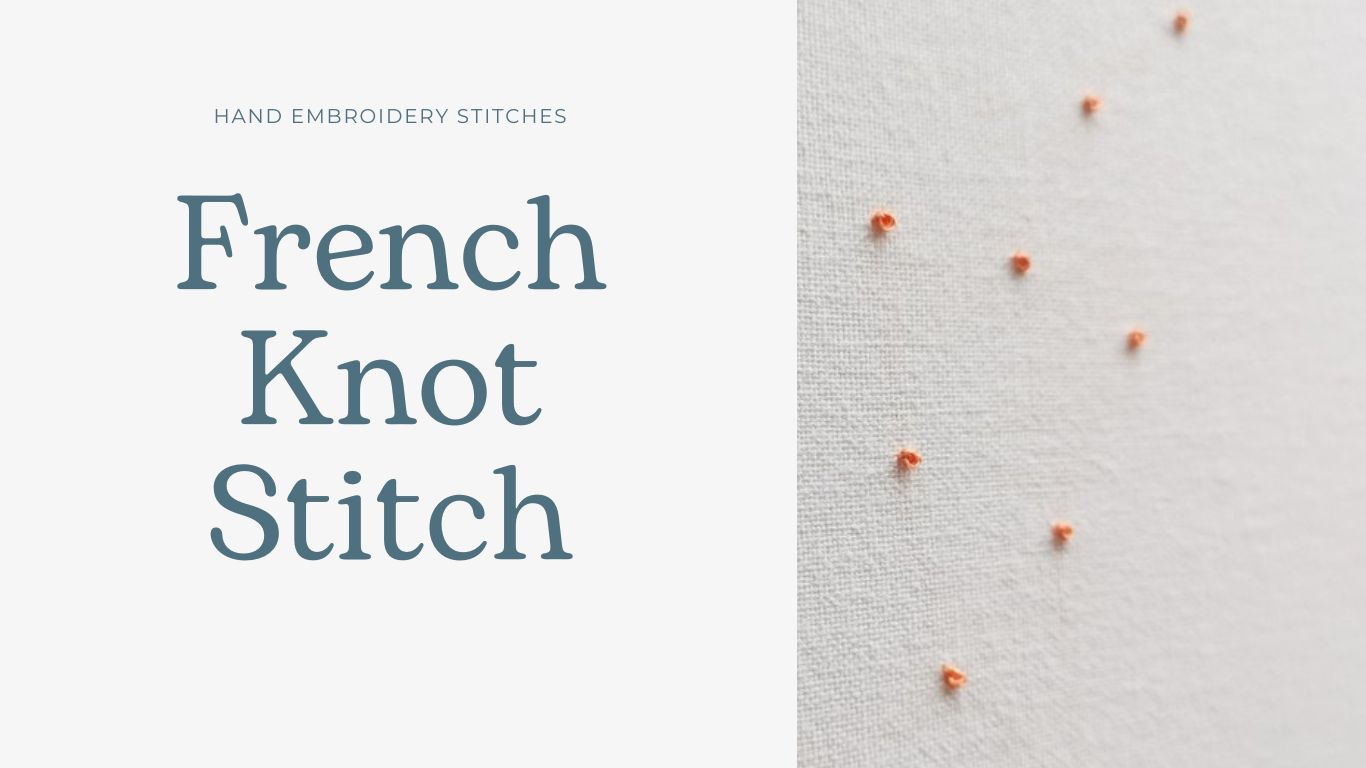 French knot stitch is a textural decorative hand embroidery stitch. It has many uses – from filling areas and accent stitches to being a part of complex composite stitches as a lattice stitch. I consider this stitch one of the embroidery stitches you should learn when you are starting your embroidery journey.
The French knot is an embroidery technique in which the thread is knotted around itself in a specific way. This stitch has a reputation for being one of the most difficult, but I find it very simple, and I like to use it. Follow these simple tips, and you'll love French knots as I do:
Use both hands to make this stitch.

Wrap the thread around the needle 2 times (3 times is maximum). If you need a bigger knot – use thicker yarn or more strands.

Leave a small space between the beginning of the stitch and the place where you take the needle down into the fabric. The knot will not pop to the back of the material.

Pull the thread slowly through the wraps to the back of the fabric. Also, keep the working thread under tension until the last possible moment as it passes to the back of the cloth.

Use a milliner needle instead of an embroidery needle. It has an eye that's the same thickness as the shaft, so it's easy to pass the needle through the tight wraps without getting hung up on the eye.
Other names of the stitch
Sometimes French knot is also called a French dot, knotted stitch, or twisted knot stitch.
Applications of the French knot stitch
This decorative stitch creates one or more knots or dots on the surface.

It is a filling stitch when you need to create a textural surface. Widely used in floral embroidery to fill the flowers' centers or depict blooms. Also, this stitch is excellent to imitate all soft surfaces – like a cloud or a sheep.

Often, French knot is a part of composite stitches – like lattice stitch or Guilloche stitch. 

Also, it is handy when you create a border design with decorative elements.

Use this knotted stitch to pin down sequins and beads in bead embroidery.
Other types of knotted stitches:
Bullion knot

Four-legged knot

Peking knot

Pistil stitch

Turkey rug knot
You will find more stitches from knot stitch family in the Stitch library by technique.
You can read more about the differences between French knots and Colonial knots HERE.
Watch a video tutorial below and learn how to embroider this stitch.
In case you need more guidance, sign up for my hand embroidery online course – "The top 10 hand embroidery stitches to learn". This course is free and teaches all the stitches from the list of the best embroidery stitches. Besides that, a free pdf embroidery pattern download is included in the course.
Looking for some other stitch? Head to the Stitches and Techniques part of this blog and choose the stitch you want to learn!
N.B. Some of the links may take you to the EasyToMake designs blog. This is my older hand embroidery blog. While I'm dedicating all of my energy to the Practical Embroidery blog, the previous version still has a lot of great content!
Would you like to learn this stitch while practicing? Then, check out the projects below and create something beautiful today!
Young sun embroidery pdf pattern and instructions is an excellent project for hand embroidery beginners.
Add a smiling face to your clothes and enjoy every stitch! Bright colors of the design will look great on both dark and light fabrics.
This embroidery pattern comes with fully guided instructions. In addition, a detailed step-by-step tutorial with photos and links to video lessons will make your crafting experience joyful and stress-free.
Learn with Practical Embroidery Online School!
FREE online embroidery course - The top 10 hand embroidery stitches to learn
Learn with Practical Embroidery online school!
Free online embroidery course - The top 10 hand embroidery stitches to learn