Honeycomb filling is a decorative variation of a Blanket stitch that takes the form of a honeycomb. It has a decorative filling purpose.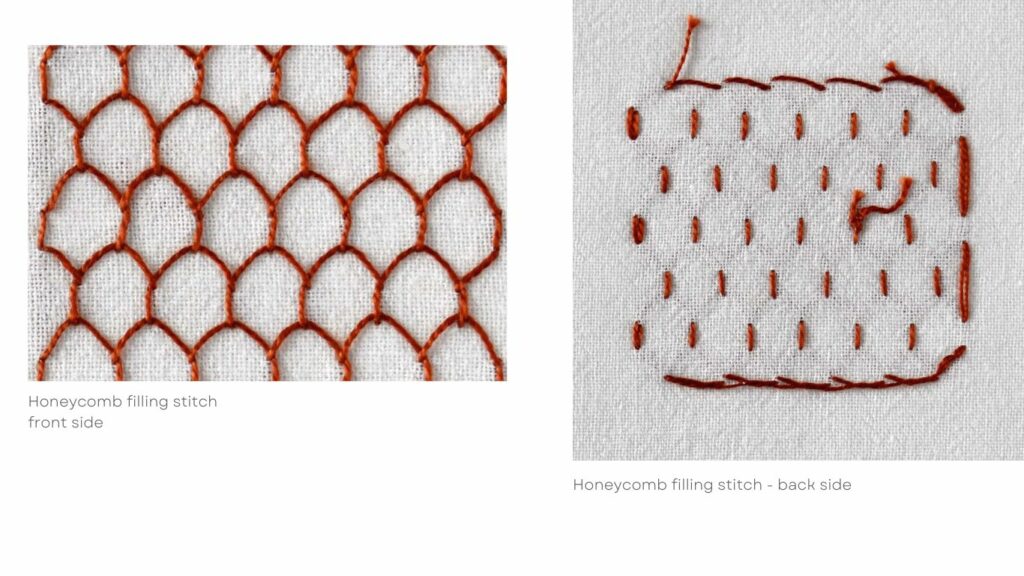 Applications of the Honeycomb filling stitch
As the name suggests, this stitch is created for filling purposes. You can fill various decorative shapes with it – from the background to the petals of the flowers. It is very functional and decorative. Besides that, it's relatively fast to embroider.
Apart from the decorative scope, this stitch can be used in mending projects to reinforce worn-out fabrics or for patching. In addition, this filling stitch is stretchy, so you can mend plain weave and stretchy fabrics like knits or jerseys.
Some tips:
This stitch does not have neat borders, so you must outline the shape after or add additional straight stitches to form a neatly finished shape.

If you embroider the first row with a simple Blanket stitch, the top line of the shape will have a straight line. If you want it to be formed in hexagons, start stitching with tiny straight stitches and create a row of blanket stitches under it.

The last row of this filling stitch has opened shapes. You must use the same technique with tiny straight stitches to form a hexagon-shaped border.
How to embroider Honeycomb filling stitch
Mark the grid. My rectangles are 1 cm wide and 0,5 cm in height. You can also mark a grid of squares for more clarity and guidance.

Start with one row of tiny Straight stitches.
Make one row of the Blanket stitch, but anchor them under the straight stitches from the previous row.
Add one more row of the Blanket stitches under the first one. The positioning of the stitches is moved by a half stitch.

When forming a Blanket stitch, pass the thread under the leg of the stitch in the previous row.
Keep adding rows of the Blanket stitch under each other to fill the desired area.

For the last row – make tiny straight stitches. And then – lace the tread under them to form a hexagon-shaped border.

To have a neat finish to the shape, add missing parts of the honeycomb with straight stitches.
More filling stitches from the Blanket stitch family
If you are a visual learner, watch a video tutorial below or on the Practical Embroidery YouTube channel.
Looking for some other stitch? Head to this blog's Stitches and Techniques page and choose the stitch you want to learn!
N.B. Some links may take you to the Easy To Make Designs blog. This is my older hand embroidery blog. While I'm dedicating all of my energy to the Practical Embroidery blog, the previous version still has a lot of great content.
Learn with Practical Embroidery Online School!
FREE online embroidery course - The top 10 hand embroidery stitches to learn
Learn with Practical Embroidery online school!
Free online embroidery course - The top 10 hand embroidery stitches to learn