Weave stitch is something in between embroidery and weaving. First, stitches are made in horizontal or vertical, parallel lines. Then, the other stitches are made vertically or horizontally, weaving through the horizontal/vertical stitches at a straight angle.
Other names of the stitch
Weave stitch is also called Weaving stitch, woven filling stitch, or even Queen Anne stitch. 
Applications of the Weave stitch:
Weave stitch is a great filling stitch that you can use to fill the background of the design.

It is excellent for darning. If woven tightly, it can totally cover the hole or a stan. It is widely used in visible mending projects on woven fabrics and knitwear.

Use it to embroider woven objects like hats, baskets, or furniture.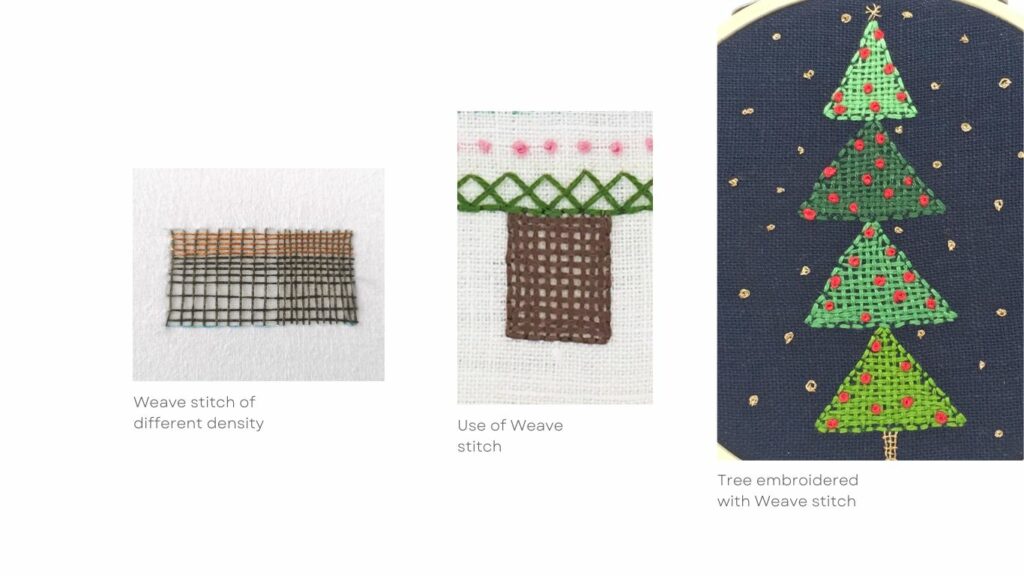 I find it simpler to embroider vertical stitches (warp) first and then weave horizontally (weft). But you can try the other way.

You can create very decorative designs by mixing the colors of the horizontal and vertical stitches. Also, you can change the weaving style and make twill, basket, or satin weaves instead of plain weaving.

One more variation you can add to your weave stitches – is density. Your weave stitches can be dense to cover the fabric totally or very loose, where the background material shows. Also, you can make warp or weft of the different densities.  

When you weave, be careful to avoid snagging vertical stitches or fabric. Use a blunt needle, like a tapestry needle (or the back of the needle).
More stitches from the Weaving stitch family family
Woven Picot

Woven spider wheel

Portuguese border stitch
Watch this video tutorial below and learn how to embroider a Weave stitch.
Looking for some other stitch? Head to the Stitches and Techniques part of this blog and choose the stitch you want to learn!
N.B. Some of the links may take you to the EasyToMake designs blog. This is my older hand embroidery blog. While I'm dedicating all of my energy to the Practical Embroidery blog, the previous version still has a lot of great content!
Learn with Practical Embroidery Online School!
FREE online embroidery course - The top 10 hand embroidery stitches to learn
Learn with Practical Embroidery online school!
Free online embroidery course - The top 10 hand embroidery stitches to learn