A chain stitch is an embroidery stitch in which a series of looped stitches form a chain-like pattern. This stitch is an ancient craft – examples of surviving Chinese chain stitch embroidery dates back to the 5th – 3rd century BC. 
This simple stitch has made its place on the list of the best embroidery stitches because it is so versatile. Chain stitch is great for outlining, filling, lettering, border designs, and as a part of other composite stitches, like tulip or wheatear stitch.
In addition, this stitch is very handy when embroidering flowing, curvy lines. Also, you can make detached chain stitches and embroider Lazy daisy stitch flowers.
Did you know that chain stitch can be made in two different ways? You can make regular and reverse chain stitches. Try them both and choose which one is your favorite, or use them both, as sometimes it's convenient to switch from one way to another.
Other names of the Chain stitch
This stitch is also called tambour stitch and the point de chainette.
Applications of Chain stitch
This embroidery stitch is versatile and widely used in hand embroidery. In modern surface embroidery, we use it for:
Outlines
Lettering
Border designs
Filling
As a part of composite stitches
Watch a video tutorial below and learn how to embroider this outline stitch in two different ways.
If you want to learn how to change the direction of the Reverse Chain stitches to regular ones and uncover techniques to craft seamless junctions between chain stitches, check out a video tutorial "Chain Stitch Mastery: Unlock the Secrets of Chain stitch Hand Embroidery!" on the Practical Embroidery YouTube channel.
In case you need more guidance, sign up for my hand embroidery online course – "The top 10 hand embroidery stitches to learn". This course is free and teaches all the stitches from the list of the best embroidery stitches. Besides that, a free pdf embroidery pattern download is included in the course.
Looking for some other stitch? Head to the Stitches and Techniques A-Z or Stitch library by technique part of this blog and choose the stitch you want to learn!
NB. Some of the links may take you to the EasyToMake designs blog. This is my older hand embroidery blog. While I'm dedicating all of my energy to the Practical Embroidery blog, the previous version still has a lot of great content!
Would you like to learn this stitch while practicing? Then, check out the projects below and create something beautiful today!
Basic floral design for hand embroidery, embroidery pdf pattern with four color pallets is a quick and easy DIY embroidery project.
Use this design to embellish your t-shirts or add it to the back pocket of your jeans!
Basic hand embroidery stitches make this project approachable, even for hand embroidery beginners. And if you need some guidance – I added the links to video tutorials of each hand embroidery stitch you will need.
Rainbow star pdf pattern for hand embroidery is a colorful design to embroider onto your jean's back pocket or a t-shirt. This filled star design will also work great for mending projects, as it can fully cover a hole or a stain.
This embroidery pattern comes with fully guided instructions.
A detailed step-by-step tutorial with photos and links to video lessons will make this embroidery project easy even for the embroidery beginner.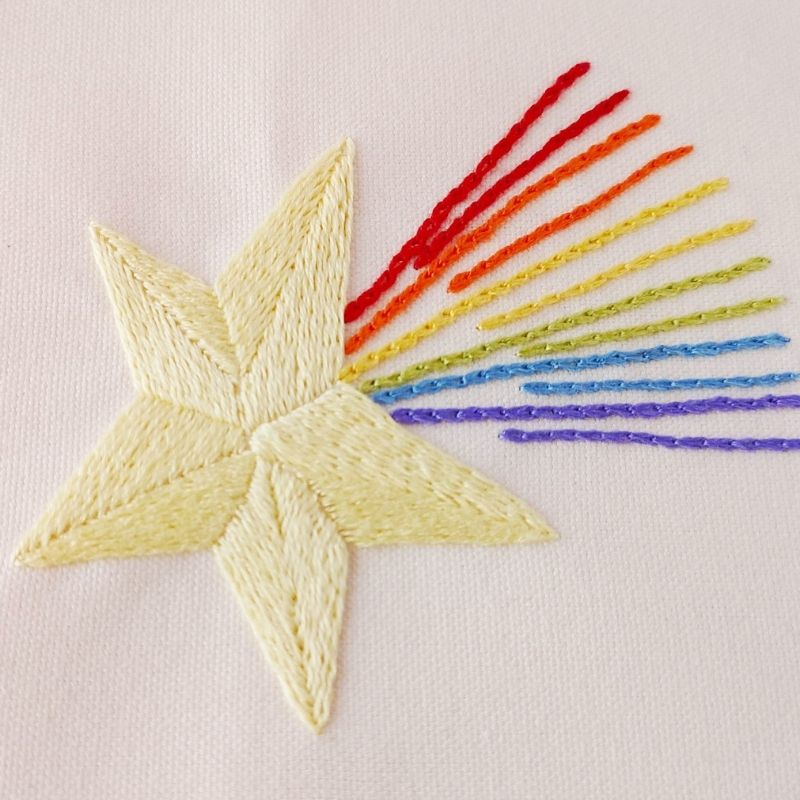 Learn with Practical Embroidery Online School!
FREE online embroidery course - The top 10 hand embroidery stitches to learn
Learn with Practical Embroidery online school!
Free online embroidery course - The top 10 hand embroidery stitches to learn