The back stitch is one of the first stitches to learn when you begin to embroider. It has a vital role in hand embroidery. As the name suggests, the back stitch is made backward to the general direction of sewing. This stitch forms continuous lines and is mainly used to outline shapes and add fine detail to an embroidered picture. It is also used to embroider lettering.
This stitch can be worked straight and curved. Stitches of different lengths will allow you to make even the most minor and most detailed curves.
The back stitch can be made both in sewing and stabbing methods.
Also, this basic stitch is often used as a base for composite stitches.
Other names of the back stitch
You will find the backstitch and back stitch used interchangeably. This is because both names refer to the same stitch.
Applications of back stitch
Backstitch is the main hand sewing stitch as it is strong and holds two layers of fabric well.
In cross stitch embroidery, the back stitches are used to add extra details and outline the design.
Backstitch is widely used in blackwork and redwork embroidery.
In modern surface embroidery – this basic stitch is irreplaceable for outlines, lettering, and filling. Also, it is a base stitch for many variations.
Variations of the back stitch
Watch a video tutorial below and learn this essential stitch!
In case you need more guidance, sign up for my hand embroidery online course – "The top 10 hand embroidery stitches to learn". This course is totally free and teaches all the stitches from the list of the best embroidery stitches. Besides that, a free pdf embroidery pattern download is included in the course.
Looking for some other stitch? Head to the Stitches and Techniques A-Z part of this blog and choose the stitch you want to learn!
NB. Some of the links may take you to the EasyToMake designs blog. This is my older hand embroidery blog. While I'm dedicating all of my energy to the Practical Embroidery blog, the previous version still has a lot of great content!
Would you like to learn this stitch while practicing? Then, check out the projects below and create something beautiful today!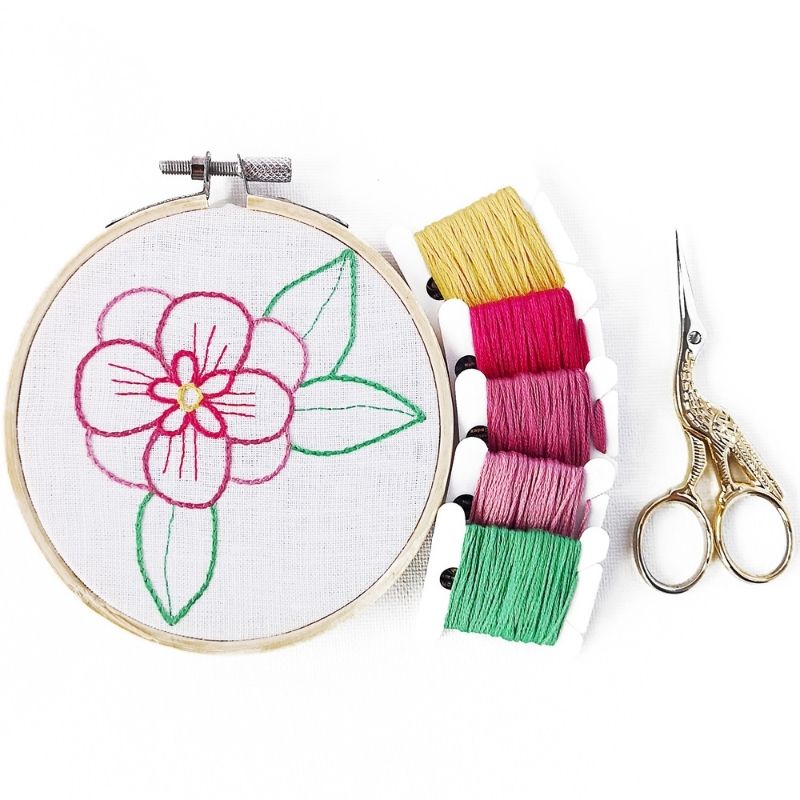 Basic floral design for hand embroidery, embroidery pdf pattern with four color pallets is a quick and easy DIY embroidery project.
Use this design to embellish your t-shirts or add it to the back pocket of your jeans!
Basic hand embroidery stitches make this project approachable, even for hand embroidery beginners. And if you need some guidance – I added the links to video tutorials of each hand embroidery stitch you will need.
Learn with Practical Embroidery Online School!
FREE online embroidery course - The top 10 hand embroidery stitches to learn
Learn with Practical Embroidery online school!
Free online embroidery course - The top 10 hand embroidery stitches to learn