Scented sachets with a floral embroidery DIY tutorial
How to embroider and sew fabric bags for home scents. Free pdf pattern download included
Spring is in the air, and it's time for spring cleaning!
After each corner of the house is clean and shiny, we want this feeling to last. One of the ways to keep the sense of a fresh and clean home last longer – is home scents. Scented sachets are an excellent way to add fragrance to your home, car, or personal items. Not only do they provide a pleasant aroma, but they can also have other practical benefits, such as repelling insects or absorbing odors.
Additionally, making your scented sachets and embroidering them can be a fun and creative DIY project that allows you to customize the scent and style to your preferences. You can also avoid using synthetic air fresheners containing harmful chemicals by creating your sachets. So if you're looking for a natural, cost-effective, and fun way to freshen up your space, consider embroidering and sewing scented sachets with floral embroidery.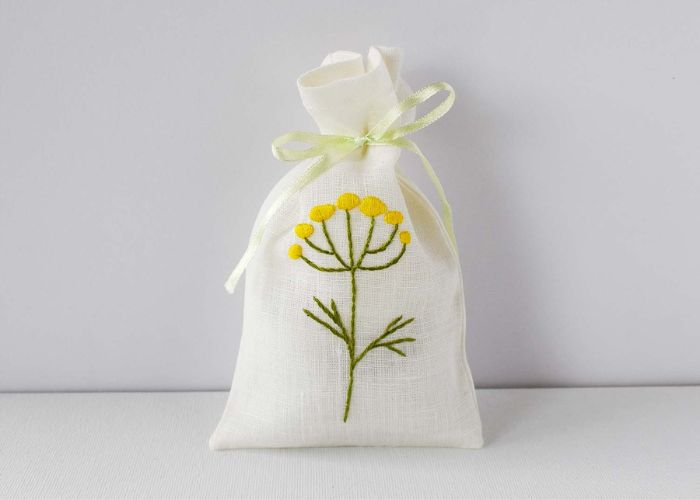 Here are some things you can do with scented sachets:
Freshen up your closet
Scented sachets are perfect for freshening up your closet. Simply place a sachet in your closet to keep your clothes smelling fresh and clean. You can choose from various scents, including lavender, rose, and cedar, to keep your clothes smelling great.
Keep your car smelling fresh
If your car smells musty or stale, place a scented sachet in your car to freshen it up. You can choose from various scents, including citrus, vanilla, and pine to keep your car smelling great.
Repel insects
Scented sachets can also be used to repel insects. Place sachets filled with cedar, lavender, or eucalyptus in your closets and drawers to keep moths and other insects away.
Relax and de-stress
Certain scents, like lavender and chamomile, are known for their relaxing properties. Place scented sachets in the living room or bedroom. Embroidered sachets are a beautiful home decor element too.
Keep your off-season storage fresh
Put scented sachets in the boxes with winter sweaters, gloves, or scarves. It will be nice to have fragrant winter accessories when the season comes.
Gift-giving
Hand-made scented sachets with natural materials and hand embroidery make great gifts for friends and family. You can customize the scent based on the recipient's preferences and even personalize the sachet with a monogram.
What can you use to fill scented sachets:
Dried flowers or herbs
Dried flowers, like lavender or rose petals, are popular for filling sachets. They not only look pretty, but they also release a pleasant scent. Rosemary, peppermint, dried orange peel, ginger, or other herbs and flowers may be used. The herbs and flowers may be combined with a few drops of essential oil in a matching scent.
Herbs and spices
Herbs and spices, like cinnamon or cloves, can also be used to fill sachets. These scents are perfect for the fall and winter months and can help create a cozy atmosphere in your home.
Essential oils
Essential oils can be used to create a variety of scents for your sachets. Add a few drops of your favorite essential oil to a cotton ball and place it inside the sachet.
Also, you can mix white rice with essential oil: combine 1 cup of dry white rice with 18-20 drops of essential oil. Allow rice to dry before filling the scented sachets.
One more way to use essential oils – mix them with Epsom salt and dry white rice. Combine a half cup of dry white rice, ¼ cup Epson salt, and 18- 20 drops of essential oil. The Epsom salt in this mixture absorbs the oil, making the sachet scent last longer. Again, allow the mix to dry before filling the sachet bags.
Potpourri
Potpourri is a mixture of dried flowers, herbs, and spices that is often used to scent homes. You can place potpourri in your sachets.
Baking soda
Baking soda can be used to absorb odors in your home or car. Simply add a few tablespoons of baking soda to a sachet and place it in the area you want to freshen up.
Wood chips
Some types of wood, like agarwood, sandalwood, or cedar, have a pleasant aroma. Besides that, you can mix wood chips with essential oils and use them to fill your scented sachets.
Scented sachets with a floral embroidery DIY tutorial
Tools and materials you will need for this project: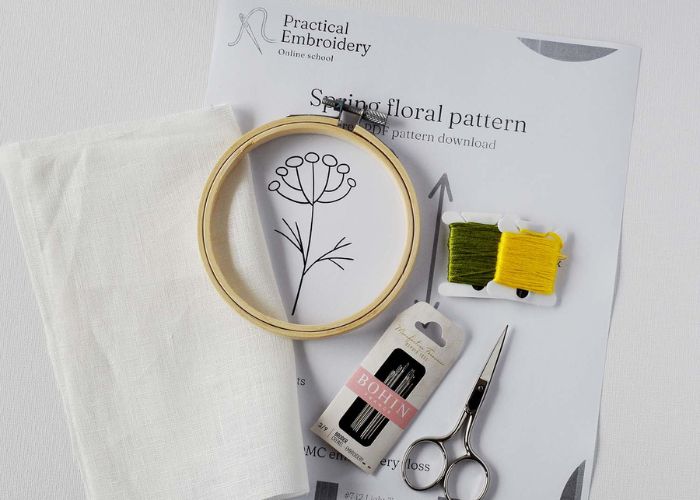 Embroidery pattern. Sign up for the Practical Embroidery newsletter and download this floral embroidery pattern for free.
Fabric: I used a piece of white linen fabric for the embroidered sachet and a piece of cotton for the inner sachet.
Embroidery floss. I used DMC Embroidery floss: #444 Dark Lemon and #581 Moss Green.
Embroidery needle. For two stands of embroidery floss, I use embroidery needle No 7.
Pattern transferring tools. I used a friction pen for pattern transfer. It will go out with the iron heat when the project is finished.
Embroidery hoop. Any small frame that fits the size of the pattern will work. Mine is 10 cm in diameter.
Scissors – fabric shears to cut the material and small embroidery scissors or snips to cut the thread.
A piece of ribbon to close the scented sachet.
Big needle to accommodate the ribbon.
Embroidery stitches
For this project, we will use the following:
Stem stitch
Split back stitch
Satin stitch
If you are unfamiliar with these hand embroidery stitches, these articles and video tutorials on the Practical Embroidery blog will be helpful:
Also, you might want to watch a "Scented sachets with floral embroidery" video tutorial on the Practical Embroidery YouTube channel.
Step-by-step tutorial
1 Prepare the pattern and fabric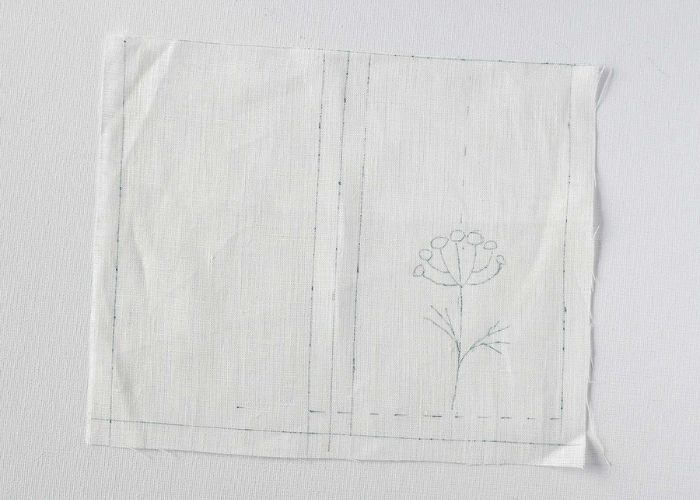 Download the pattern from the Practical Embroidery free resource library. Print it.
Measure and mark the fabric. The size of the flower is 4,6 x 8 cm. My sachet will be 9 x 17 cm, so I measured two 11 x 20 cm pieces leaving space for the seam allowances and the top edge.
Mark the center of the sachet and transfer the pattern to the fabric. I used a Lightbox method for pattern transfer and a friction pen for marking. It will be easy to remove after the embroidery is finished.
2 Frame the fabric into a hoop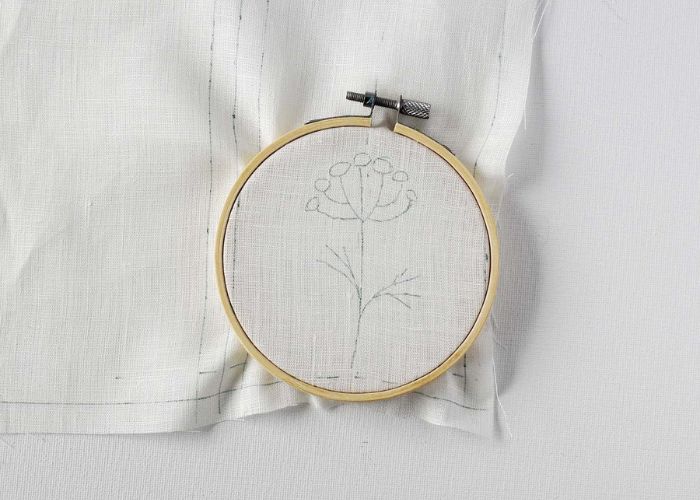 Prepare the fabric for embroidery. Place it in the hoop, adjust the tension, and tighten the screw.
3 Embroider the stems of the flower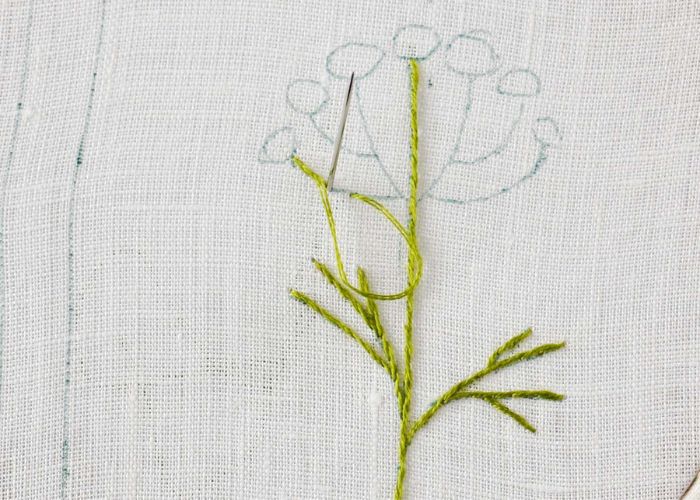 Use two strands of DMC #581 moss green embroidery floss. Embroider with Stem stitch.
4 Embroider the buds of the flowers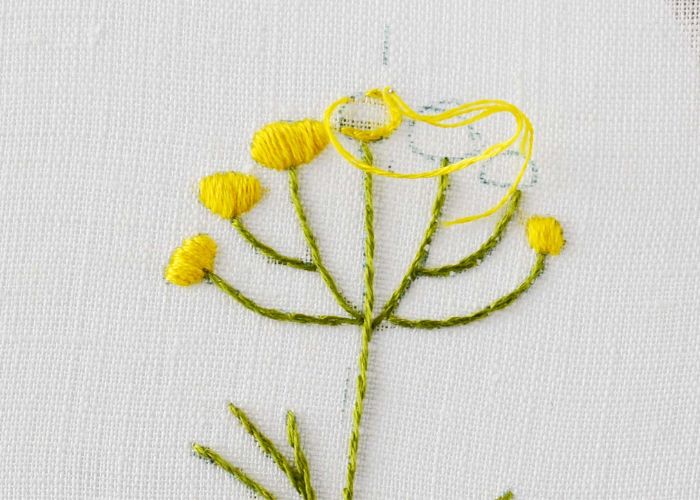 Outline the rounded shapes with a Split back stitch. Use two strands of DMC #444 dark lemon embroidery floss.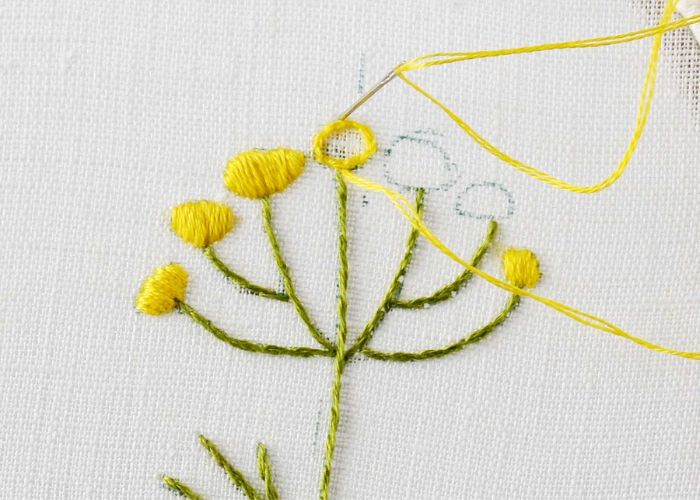 Embroider Satin stitch. Start filling in the center of the bud and move toward the edge of the shape.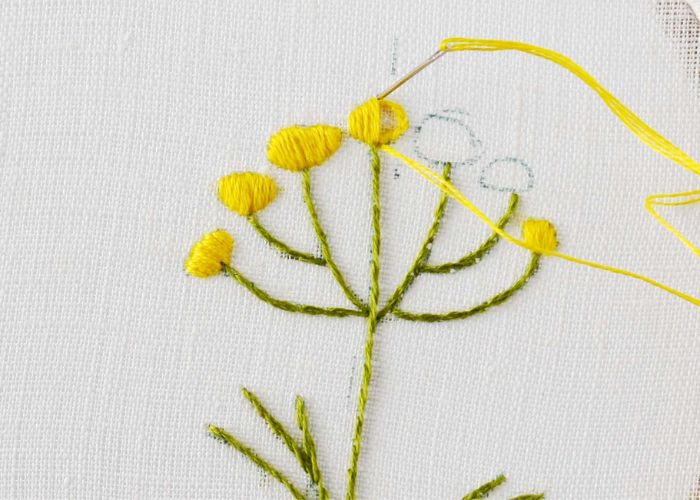 Return to the center when one side is done and make stitches towards the other edge.
5 Prepare for sewing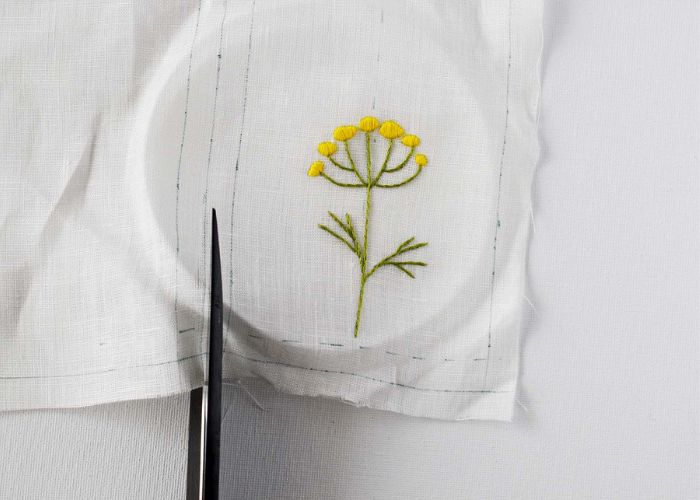 Cut the fabric into shapes for sewing the sachet.
Remove pattern tracing marks and iron the fabric.
6 Sew the sachet
Place two pieces of the sachet with the embroidery facing inside and sew around three edges, leaving the top open.
If your fabric is fraying – sew around the edge with a zigzag stitch.
Turn the sachet, fold the fabric, and sew around the top edge.
Sew one more slightly smaller bag for the scented materials. I used a tight woven cotton fabric for this inner sachet.
You can also sew a drawstring bag with your embroidery. If you are unfamiliar with sewing, this DIY Drawstring bag sewing tutorial might be helpful.
7 Add a ribbon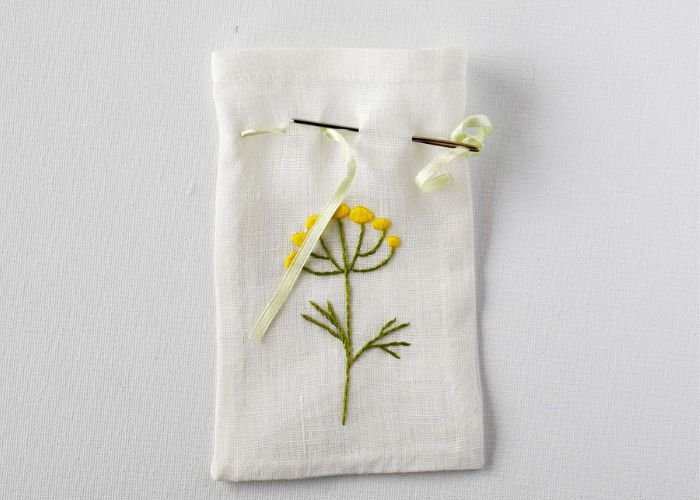 Sew the narrow ribbon with a running stitch around the top edge of the sachet, and it will be easy to close and open the sachet. It will also decorate your small bag.
Otherwise, you can transform your sachet into a drawstring bag.
8 Fill your sachet with scented materials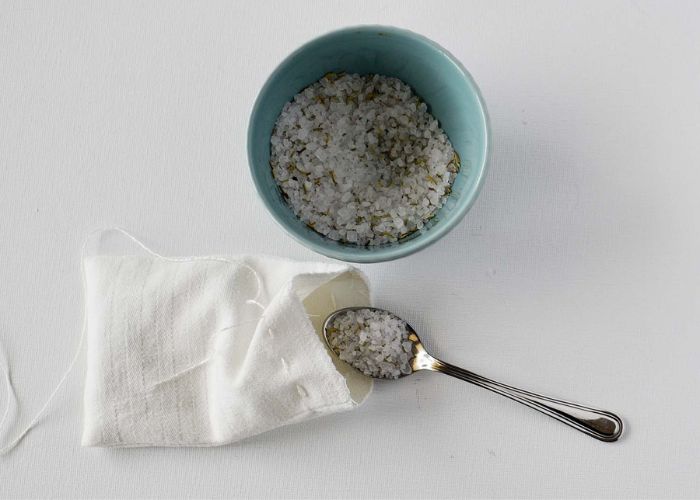 Fill the inner sachet with scented materials. Sew a running stitch around the edge to close the bag.
Place the inner bag inside the embroidered bag and seal it with a ribbon.
Enjoy great smells at home!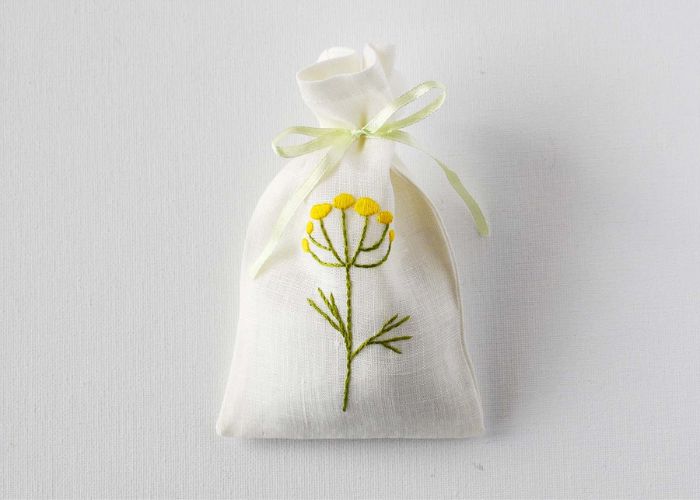 Scented sachets are a versatile and easy way to freshen up small spaces. Whether you want to create a relaxing atmosphere or repel insects, there is a sachet and scent that will suit your needs. So get creative with what you put inside your embroidered scented sachets, and enjoy the beautiful scents they provide!
I would be happy to see what you created with this embroidery pattern and DIY tutorial. Please share your creations on social media and tag Practical Embroidery, so I can see them and re-share them.
More DIY tutorials from the blog: